If you are looking for the best golf in Orlando, FL and want to know who has the finest course layouts, conditions and facilities, look no further than Orange County National Golf Center and Lodge. Whatever the goal for your Orlando golf vacation – 36 holes per day, first class instruction, hours of range time, or memories of sharing good times with friends, OCN has something for you. Two championship courses, a 9 hole short course, Central Florida's Premier Golf Academy and the largest driving range and practice facility in America are all at one location.
Panther Lake
Panther Lake is everything you could want in a golf course. Playing over rolling meadows, through native pines, around and over wetlands, lakes, and up and down elevation changes of up to 60 feet, it is first and foremost a visual delight, reminding you that natural beauty is one of the main reasons you play golf and a major factor in deciding which course to play.
Panther Lake offers some of the best examples of natural beauty that Orlando area golf courses have to offer. One of the highlights is that there is no development on or around the course " a Florida golf course with no homes! You will likely encounter many native species of birds and wildlife during your round, which will be enjoyed in the most tranquil of settings. Every hole on Panther Lake is unique and requires something different from your shot making repertoire. This is another feature that makes this Central Florida golf course so special; when you finish your round you will likely be able to recall each hole very vividly as they are all very different in appearance as well as appealing in design to the eye. The variety in design is evident in the way no two holes play alike. There are no boring holes at Panther Lake, and each is as distinct and memorable as the last. The only characteristic the holes share is that each shot demands good thinking and precise execution.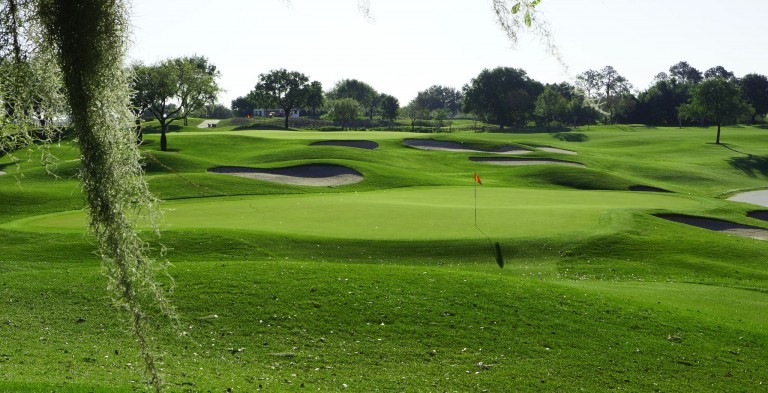 Off the tee, you will face gently sloping fairways guarded by strategically placed fairway bunkers, trees and water hazards that frame the holes and provide a clear line of play. From the fairway, you will hit many approaches into well-guarded elevated greens, which are large and have plenty of contours, so two-putting isn"t automatic. Our greens on Panther Lake are also Brand New. In 2011 we put down Champion Ultra Dwarf Bermuda Grass. These greens will produce similar putting conditions to those of Bent grass from up north. We are very excited and want you to come out and try the same new greens that were played at the Atlanta Athletic Club for the PGA Championship. Simply put, good shots will be rewarded and bad shots penalized, the hallmark of great courses everywhere.
If you"re looking for a bit more golf course, the tour tees provide as stern a test as you"ll find anywhere, with intimidating carries and risk-reward approaches that can lead to birdies or bogeys. From the three forward tees, you"ll face shorter carries, softer angles and wider landing areas, making Panther Lake more friendly but no less memorable. When you play #10, look at the shot from 150 yards to the green. That is the spot where Tiger Woods was told to "Get more forgiving irons, the Nike Pro-Combos" by his talking head cover, Frank, during the very popular commercial. Will you be able to hit the elevated green from there with your irons?
Crooked Cat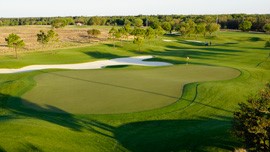 Like Panther Lake, Crooked Cat features significant elevation changes, rolling fairways and large, contoured greens. But with fewer trees, wider landing areas, native heather and mounding framing the fairways, Crooked Cat presents golfers more of a links-style look. It may well be the most naturally beautiful Orlando Florida golf course. In the Summer of 2012 Orange County National completed a successful renovation of Crooked Cats greens using the highly regarded Champions Bermuda Ultra Dwarf Turf Grass. Champions Bermuda has received much praise from professional and tour players because of it"s true roll and quicker pace.
The course"s open feel encourages golfers to grip it and rip it off the tee, and there is certainly more room for error and multiple options for playing a hole"both off the tee and into the greens. Crooked Cat is not a connect-the-dots course; feel free to go outside the lines like a kindergartener"s finger painting. But beware: As with links-style courses, there is an element of chance, and a wayward shot can end up in one of many seemingly randomly placed grass bunkers. Gamblers and scramblers will do well. So will shot makers.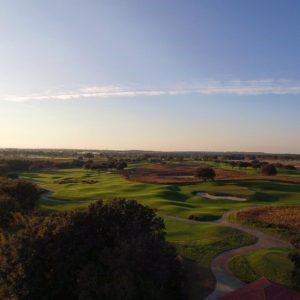 Crooked Cat is more exposed and the routing twists and turns, so the wind comes at you from ever-changing directions and is a real factor. Players who appreciate the challenge of working the ball"up, down, left, right"to counteract or ride the wind will get a chance to showcase their mastery and get the most out of the course.
The back nine of Crooked Cat may be the best nine on the property and is the favorite of many low handicap golfers due to its length and challenge. Even if you don"t have ball shaping down to an art or the deft touch to escape like Houdini from any peril in your way, Crooked Cat is incredibly fun to play. And because of the unique design you"ll never get tired of challenging this course because you will never play any hole the same way twice. No other Orlando Florida golf course offers this much versatility, challenge, and fun.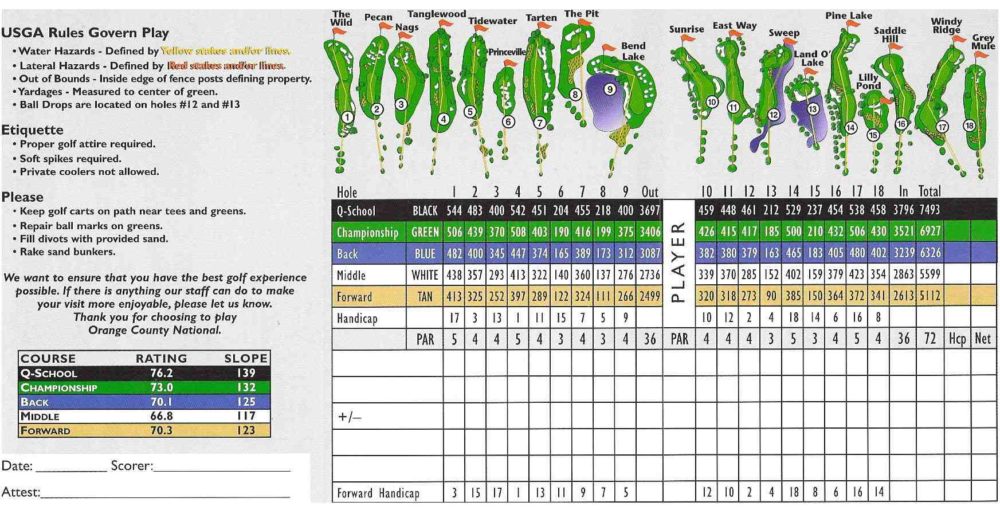 The Orange 83 Pub and Grill can comfortably accommodate more than 200 people inside for table service. The design is a combination of restaurant and banquet facility and also allows for service on our outside patio. The regular menu contains a variety of delicious soups, salads and sandwiches and a more extensive catering menu is available for groups. We also offer daily specials. The restaurant also features a large bar area and 10 HD televisions making it the perfect place to catch the game before or after your round. Open 7:00 am for breakfast and lunch every day with a customizable dinner menu available for group reservations and Lodge Guests when dinner is booked in advance. The Orange 83 is a great place to grab a bite to eat before your round, or to enjoy a post round refreshment. The Orange 83 also offers customized banquet programs as it is a great place to hold a special event or meeting. We can accommodate a wide variety of groups. Our friendly staff will make sure that your event is one to remember.
Viewing Your Favorite Sporting Event After Golf Has Never Been So Much Fun!
OCN has HD Flat Screen TV's, for a choice of 8 different viewing areas.
Watch your favorite sporting event on our TV's.

Golf Performance Village
The Orange County National "Golf Performance Village" was created to be a one stop shop to improve your golf game. Whether you are a beginner or a scratch player, an adult or a Jr and you need a tune up or a full comprehensive detailed plan to play the best golf you can possibly we have it for you here. Orange County National has 12 world class teaching pros on site to help you with all aspects of your game. Click here for Instructors and full time academies.
We also have on site a club fitter/builder Golf Studio 360 who has fitted and built clubs for some of the best PGA/LPGA players in the world. Looking to improve your putting game, then look no further than the "Golf Village" where you will find SIK Golf. They can put you on their technology to find your flaws in putting and then build you a custom putter. If you are looking at getting in the best physical golf condition you can set an appointment up with Dr. Brendan McLaughlin.

The Best Golf Driving Range in America"
– Golfer Magazine
"The Largest Driving Range in The Nation"
A unique event that has been hosted at our Orlando golf practice range is the PGA Merchandise Show Demo Day. The PGA Merchandise Show Demo Day is held in conjunction with the annual PGA Merchandise Show held each year at the Orlando Convention Center. During this event, some 9,000 PGA Professionals and golf industry professionals visit Orange County National to see and test all of the new equipment products for the upcoming year. With a combination of perfect turf and high quality practice balls, there is no better place to practice! You may feel like you have seen our range before when you arrive for the first time. The facility gained notoriety when Tiger Woods bounced a ball off his sand wedge several times before striking it out of mid air 150 yards down the fairway in his famous Nike commercial.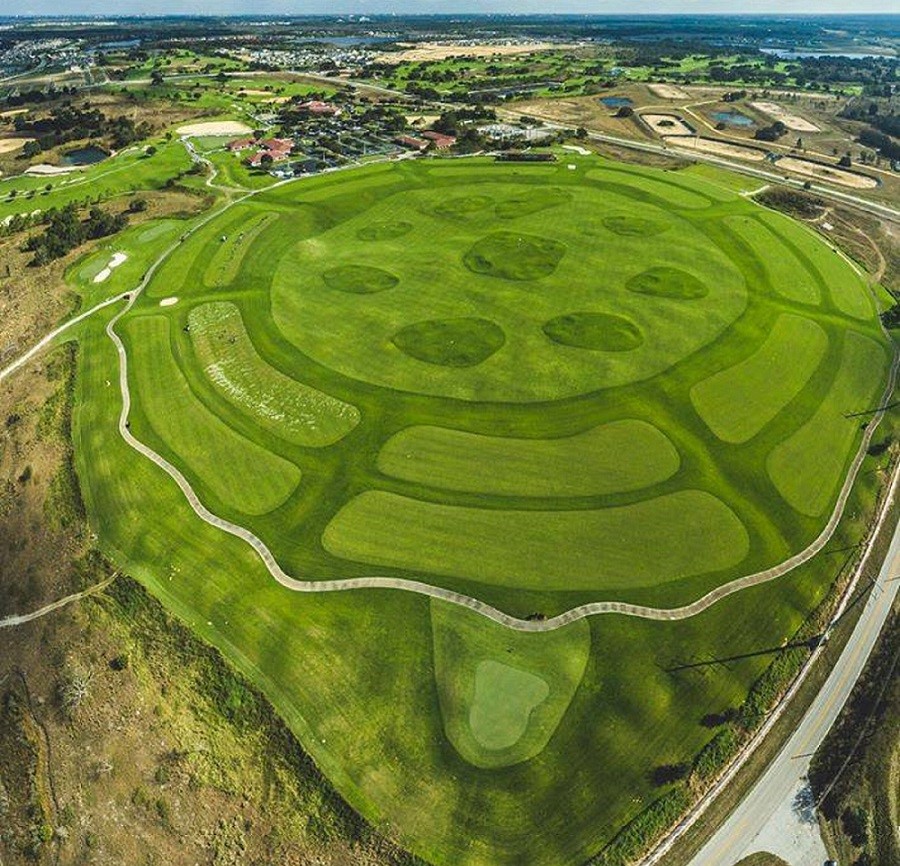 Conceived as an impromptu add on as the director watched Tiger playing in between shots of originally scheduled commercials, one of the most memorable commercials of all time was completed in less than 30 minutes. After three attempts that fell short, the director put Tiger under the gun and told him they would give him one last try. As we all know, Tiger lives for a challenge and responds to pressure, so when he pulled off the amazing series of very difficult maneuvers, it should have not come as a surprise to anyone.
In case you run out of daylight, we have a 22,000 square foot green that is lighted at night. The green includes an 18 hole putting course and a short game practice area. Serious golf practitioners have been known to camp out all day on the practice facilities. We have hosted numerous college golf teams for their annual spring training, international golf teams including the Iceland National Junior Team and the British National Team, and a wide variety of golf schools from around the world.
There is lot of room at Orange County National to get in some golf practice. Putting greens, a short game area and our driving range make up the 42 acre facility.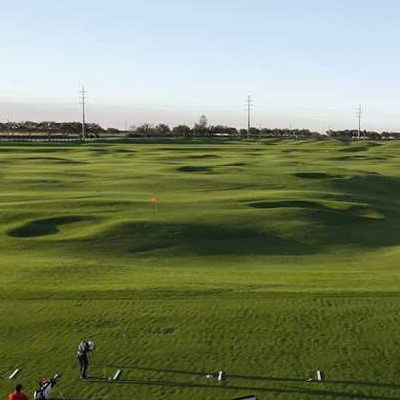 Spend some time practicing at Orange County National- your score card will show you the results. You can pound balls from natural grass out towards one of nine target greens located inside our renowned circular driving range. Hit chips and pitches in the short game area but do not neglect lobs and bunker shots. Try out your putting stroke on our 22,000 square foot putting green. No matter what you need to work on there is plenty of room and options for you to get your work done and lower your scores.
What about taking some time to play our par 29 nine hole executive course? See the florida golf packages and options for practice memberships and get one today so you can get your game in shape to conquer our two 18 hole championship golf courses. While it may not be the most fun part of golf, practice is what will make you better and there is no other practice facility like this anywhere. It truly is the best Orlando golf package in town. So we invite you to come out and take up one of the 600 spots on our driving range. Get in your full swing golf practice then hit the putting greens and short game area and watch the strokes practically fall of your card.